My Queen and I rolled out earlier than either of us would have liked Sunday morning (the day after the tournament) I think we both would have liked to have slept until noon – but it just wasn't in the cards. We got up, both moving slow, recovering from a day that was almost much too long for either of us. We watched some boob tube – went out for the occasional smoke – had a bite to eat and just pretty much took it easy for the day. By late afternoon, my shoulders were tensing up – so while my Bride whooped up a nice big mess of spaghetti – I went out and worked on the beach some more. I have got it nicely cleaned up now and hopefully it will stay that way for a bit. Raking and pitch forking I have found is a really good way to exercise sore shoulder muscles. Course – it wreaks havoc with my lower back now…… just another fun little diddy, I guess, that comes with advancing in years. I've heard, that getting older is not for the weak or puny – boy – that ain't no kiddin'…… it sucks…. I advise against if you can figure out a way around it. we didn't do much else other than watch NYPD Blue and look for turtles the rest of the evening. Got our showers and crawled back into bed like it was our job.
I rolled out much earlier this morning than I would have cared for – but I needed to be up at Blues Backyard BBQ to get a jump on my day up there. The fence that I put all the work on was in serious need of a stain and sealer to help protect from the weather. I was up there promptly at 07:00 to start that process. My bride stayed home to domesticate (laundry, etc.) By noon, I had the inside of the big section of fence done. The plan was to move to the outside and start in on it – but the sun beating down on my head, the sweating running down the crack of my touchas and the pain in my lower back – all convinced me to call it a day and come back to this wonderfully conditioned air and some aspirin. I came home, gulped down a handful of aspirin and settled in on the couch for some NYPD Blues and let my back quit hurting. Angie made a meatloaf….. I'll leave that right there…… and now here I am. I'm gonna put up the rest of the pictures I have from the tournament (my phone died much earlier than usual, so I didn't get as many pictures as I would have liked) — and a couple from today.
We have a meeting in the morning with Fish with A Vet to reconcile numbers from the tournament – so we are once again getting up earlier than we'd probably like – but it's breakfast 'out' and keeps us moving… we'll sleep in tomorrow~!
Good night Ya'll…… Thankx for stopping in~!
Some of the fish weighed in — Barracuda, Kings and Mahi-Mahi~!
The Moko Jumbies made an appearance~!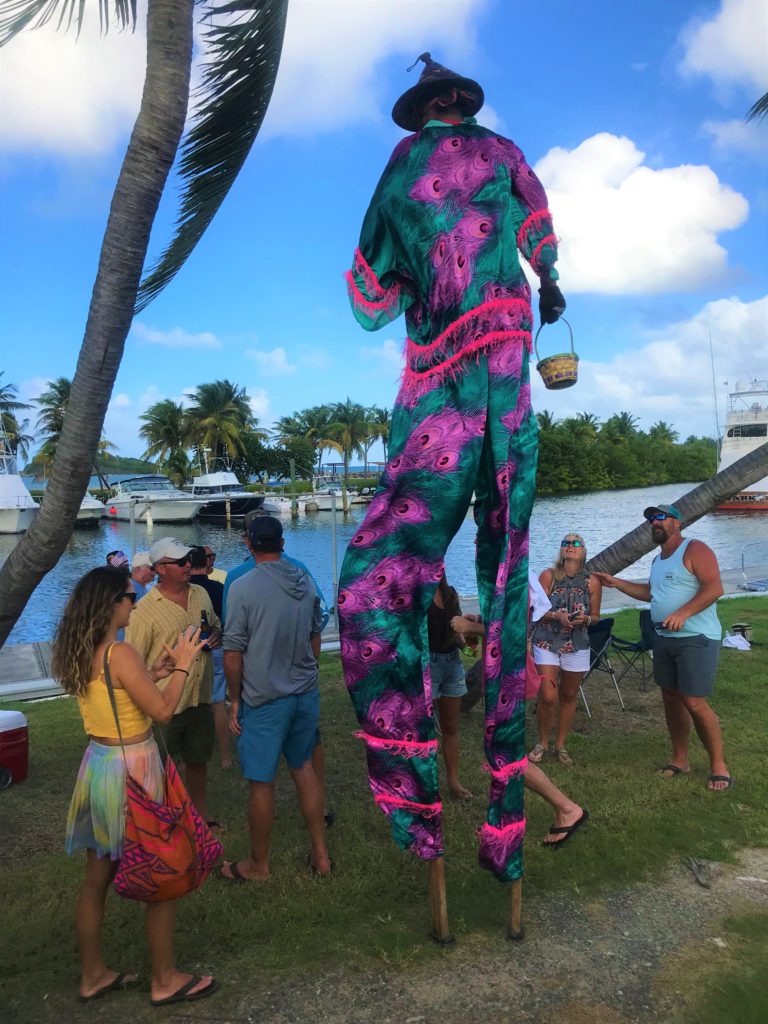 Shawn – "Pork Chop" cooling off with a cold one after a morning of fishing~!
Eddy (famous Blues Backyard BBQ bartender) and Deanna~~
Local 'lawn mowers' cooling off…..
Another beautiful sunrise~~
My fence…. before….
After……
Total Page Visits: 457 - Today Page Visits: 1