I sat down last night with a good story to regale you with and lots of new pictures, only to have our high quality internet here take a good old fashioned dump. I did everything I knew to try to restore it – and no dice~! I tried the hot spot on my phone to no avail and even hooked up our little AT&T mobile hot spot, it would let me pull up mail, but that was about it. It wouldn't even load Face Book. So– apologizes even though I had no control over it.  One of the fun little perks of living in paradise 'they' fail to mention.
Shortly before the sun set….. we went out for a smoke and was discussing that we had babies due starting tonight. I no sooner got it out of my mouth when I spotted a baby exactly where it was supposed to be. I had my camera with me and ran out as this little guy made his way up out of the sand. I was so excited thinking I was catching the beginning of that cool little explosion of them little dudes coming up out of the sand~! He finally wiggled his way out and dutifully headed immediately for the Sea. I kept waiting for the rest, but alas….. it never happened. ( I did get some pictures and video for you of the one though) 😉 Had to be one of two possibilities…… 1) he was the last of them in the nest or 2) he was the only one that survived out of the nest. Sadly, there are 6 different nests in the very small spot where he came up and I have seen many, many eggs that were destroyed by turtles digging on top of them. My first instinct was to dig down and see if there were any more, but I could have destroyed another nest and did not want to take that chance. The one little guy was really struggling and had a huge swath of Sargassum to get through, so I picked him up and carried him out into the water to watch him swim away. I am keeping my fingers crossed that he was the last one out and we just missed all the others. On a related note- we have the chance for babies the next 4 or 5 days…. so we are keeping regular checks for them.
We continue to be deluged with rain but there have been some gorgeous shots of the sky as the rains continue to pour down. A chilly breeze is starting to mix in which raises the occasional goose bumps. Mind you – when I say 'chilly' – I'm referring to temperatures in the mid-to-upper 70°s…. Awwweee……….. pitiful huh ?  😉  That is one of the ways we are starting to feel like islanders now – when mid-to-upper 70°s feels cool to us. NOT COMPLAINING one iota though – let me be clear about that~! I'm sure there are other things I have already forgotten in the past 2 days – but I'm at 500 words, so I'll quit here. Maybe I'll remember some of it for tomorrow~~
Good night Ya'll ….. Thankx for stopping in~!
(Since I couldn't get on here last night – Happy Belated Birthday Stephie~)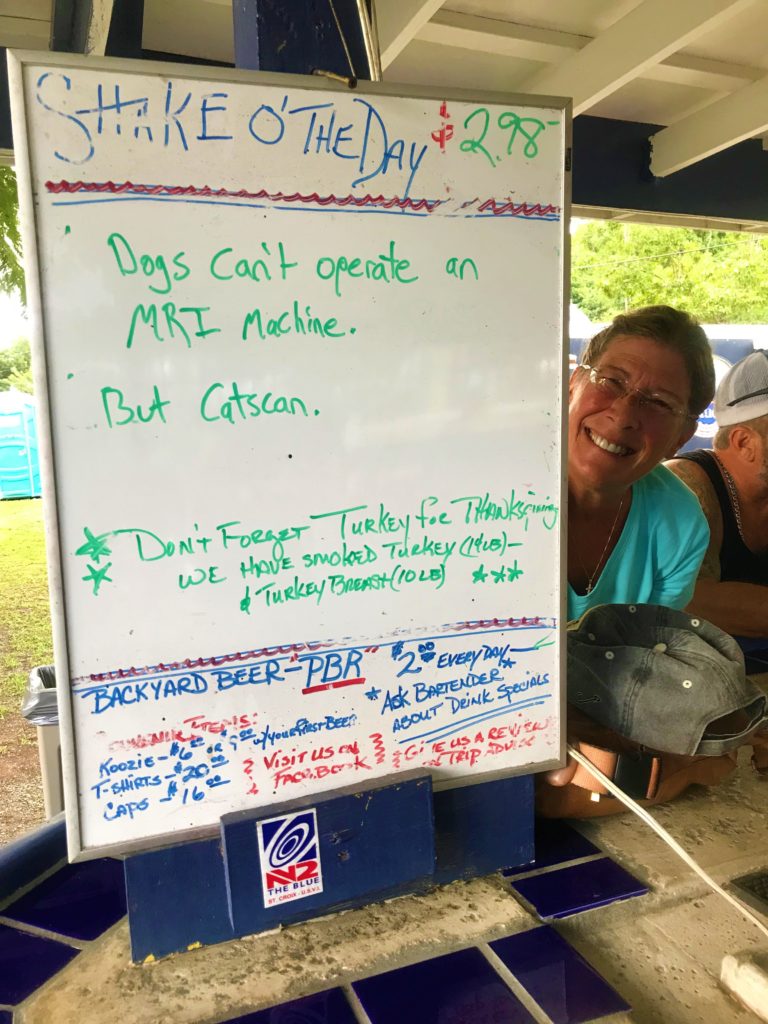 IMG_8297    <—– Video
IMG_8298    <—- Video
Sunset turtle watch…..
Mickey D's new burger – McBurger Supreme  (really wasn't all that supreme)
Total Page Visits: 599 - Today Page Visits: 1