I went out last night around 22:30 for my last smoke before bed (everybody else had already crashed) As I opened the patio door, I was hit with the unmistakable smell of freshly dug sand……. I lit a cigarette and scanned the beach with a muted light. A mere 10′ from the patio I saw the outline of a big turtle. I quickly shut the light off and let my eyes adjust to the darkness. She was just getting started on her nest, so I went in and worked on a red filter for my light. I tried multiple options until I finally come up with one I liked and could use.  I took my 'new' filtered light out, and quietly walked out and around behind the turtle. I turned on my light and crept up to her, not wanting to alarm or disturb her. I could see her very well and she was not the least bit disturbed by the light. Over the next hour I experimented with what I could do with the light without bothering her. I got some really good video of her digging her nesting hole for her eggs. I have already shared it on FB….. I also got video of her actually laying her eggs~! She dropped what looked to be close to 50 eggs. It was fascinating to sit and watch her. I am satisfied, she had no idea I was back there. It was absolutely amazing~!! The video gets a little grainy because the camera was having a hard time focusing…. but you can easily see the eggs. I took another video of her covering the eggs up. She spent an easy hour covering them back up. The video's are all much to "big" to get up on here – so you'll have to go to FB to see them [[sorry]]. I sat out there, kneeling in the sand, dripping with sweat and covered in pi$$ ants to get those video and pictures – but worth.every.second.of it~! I am still learning how to use my photo editor to get the redness out of the shots and keep the other colors – so bear with me there. Finally came in, took a shower and dropped into bed about 01:30 this morning….
Rolled back out of bed about 07:30 ready for another day with Rachael. Decision had been made, we were to go uptown for breakfast and get some more shopping done. Had breakfast at Toast Diner again – Meals were just as delicious as always and we all left with full bellies and smiles on our faces. Shopping turned into a much longer venture than any of us planned, but mission accomplished~! Hot and tired and some ominous looking clouds to convince us just to head back to the condo for some conditioned air and relax. Good call, as it started pouring shortly after we got back…….
Ordered out for dinner…… bellies once again full, we watched some Blue Bloods and now the girls are watching Beach Front Bargain hunt. We go out for the occasional smoke and scan the beach for turtles (big and small), none yet…. but we keep looking~! Rachael heads back tomorrow. We'll miss her – but at the same time – it'll be nice to have the place back to ourselves again….kind of a double edged sword.
Good night Ya'll …… Thankx for stopping in~!
So you can see what the originals look like……..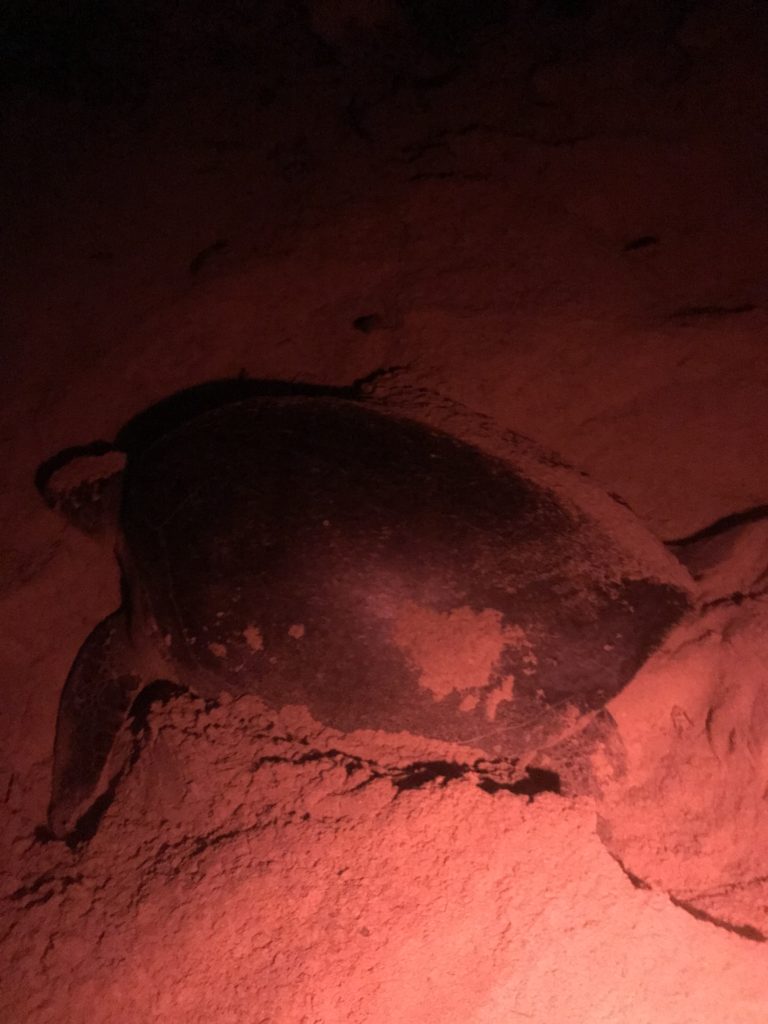 Digging the nest….
Eggs~!
Slinging sand during the cover up~!
Total Page Visits: 623 - Today Page Visits: 1