Another lazy day that we wound up doing a lot of nothing~! I actually slept until 07:20…. I was amazed. I got up and did my morning things and settled into checking the news and stuff. My bride slept in an extra hour or so before joining me. Watched some Buying the Bayou and our dose of Judge Judy before turning on a movie. This one was actually a good one – The Hunt for Red October. I had seen bits and pieces of it but never the whole movie. I highly recommend it~! I ordered [and actually got] a pizza. It wasn't terrible but didn't scratch that itch. It went good with the movie though. The movie took a lot longer than usual, as the power went out…..again. A pretty common occurrence around here. It is normally only out 10-15 minutes at a time….. today lasted for an hour. AHhhh Island Life… By the time we got power and internet back (we were streaming the movie) and the movie ended – it was already 20:30 here (8:30 pm for you civilians out there) 😉   I was going to get on here and tell you, other than the movie, I didn't have anything to write about and put up some pictures. I went out to burn one and gather my thoughts when I caught movement in the shadows. I came in and grabbed my flash light and sure enough – we have another turtle~! (#7) I say have, because as I write this, she is still out there doing her thing. We have been watching her and she is now deep into her third nest. My bride is keeping an eye on her while I write this. I watched her during her first two holes and when she crawled around and then started on her third – I figured I'd better get in here and get something written before it turns into tomorrow.
I'm not educated enough to understand yet, if she is actually laying eggs in every hole she digs or not, but will find out. It sure looks like it. Our beach now looks like a war zone with all the holes and turtle tracks. It is amazing to see. We're supposed to get up early tomorrow to go up to Blues and finish the flag project, as I finally got the correct parts I need to finish it. We also need to get the laundry done and some grocery shopping, so we need to get into bed – but I ain't going until I'm sure # 7 gets back in the water safely….. So here are the pictures I have of her so far……
Good night Ya'll —– Thankx for stopping in~!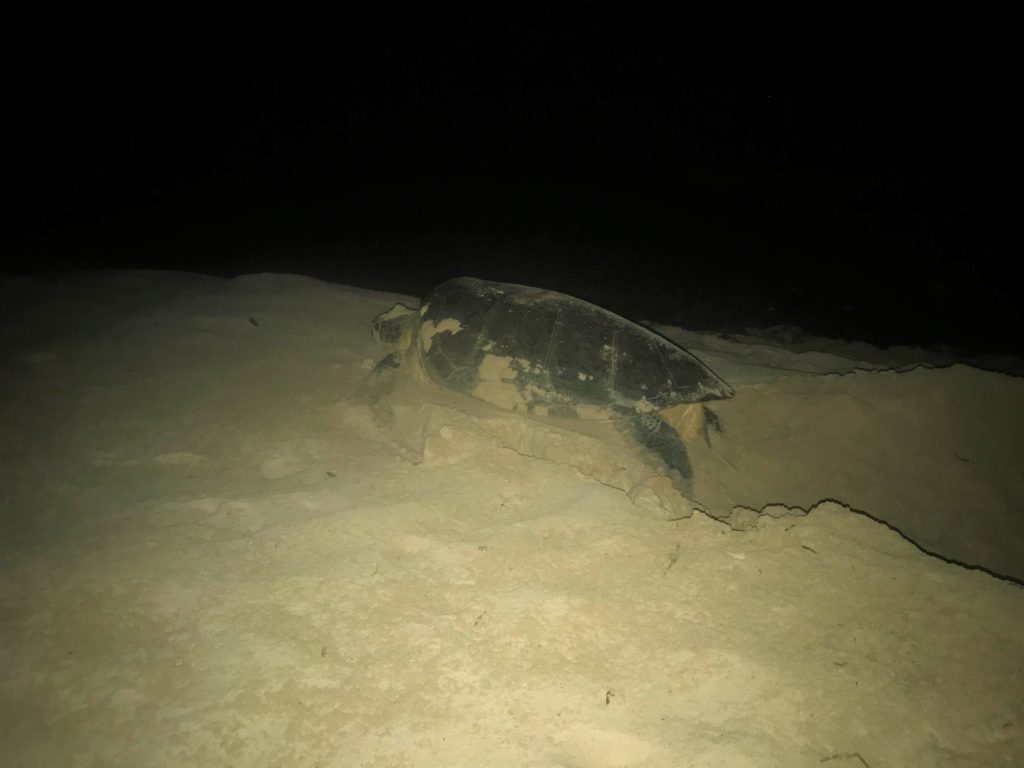 Total Page Visits: 757 - Today Page Visits: 1