Hey ya'll…..I'm back, at least I think so for a bit. First time I have been able to get on here in 4 days……Not sure if I'll be able to get any pictures to load (and I have a 'ton' of them) – but at least I can catch up a little bit about our adventures……
Last we chatted, we had done the Hamm's Bluff Light house adventure….. There was some recuperating done the following day, so it was a beach kinda day. We headed out fairly early that morning and went back out to Cane Bay, only to be greeted by a much stronger than normal winds, that made snorkeling no fun (because the water was so stirred up) and sitting on the beach was painful from blowing sand – so we loaded Double D up again and took off for the Buccaneer Resort again. Arriving still fairly early, we had the place almost to ourselves, and settled in for what turned into the rest of the day at this small little cove, snorkeling, swimming and stopping for the occasional shade break and some snacks. Not much to the day – just enjoying the day and each others company. Came back, got the salt rinsed off of everybody and headed up to Blues Backyard for hotdogs, burgers and Smoked Turkey-Bacon-Ranch sammiches~!  Bellies full, we headed back to the condo again for a much needed night's sleep.
Next day was a day for me and Stephanie — Oma graciously agreed to watch the boys again while Steph and I went out for a couple of dives. We arrived at the shop a little bit early because I [finally] broke down and ordered my own BCD and Regulators and they had come in and I wanted to get acquainted with them before using them. Having got that out of the way, we loaded up into the boat and out across that beautiful blue water. Our first stop was a location called 'Shallow Wrecks', While not technically a wreck, there was a large barge that had been sank along with a couple of truck chassis. I cannot adequately describe how good it felt to step off the back of that boat into some of the prettiest blue water I've seen in a long, long time. Absolutely breath taking….. and incredible visibility. I am guesstimating an easy 60′-70'…… just wow~! Only took about a minute to get to a massive barge laying in about 65′ feet of water. Beautiful marine life abound. It was so much fun floating around looking at that big ole thing. There were multiple large holes cut in it to sink it, and you could peer into them to see some of the insides of the craft. Kind of an eerie feeling as you peeked into the bowels of the boat, with the brilliant rays of sunlight streaking through openings allowing a glimpse of the interior. If you ever seen the move 'The Deep' (with Jacqueline Bisset, Nick Nolte, Dick Anthony Williams, 1977 ) you'll understand  the feeling I was getting. You'll also find out where my fascination with Green Moray Eels comes from  😉   Older movie but definitely worth watching.
I'm already at my 500 words – so gonna break it off here and try and get some pictures to load for you. Hopefully can get back in here tomorrow for some more….
Good night ya'll……. Thankx for stopping in~!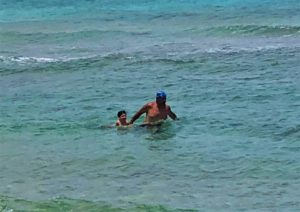 IMG_5721
Total Page Visits: 1878 - Today Page Visits: 1