Trying to keep last nights post under novel length, I left out the part about a beautiful little beach we found on the way out to Point Udall yesterday. It looks like at one point it may have been a state operated facility, but it now looks like Maria had her way with the place, and it has been left to the wayside – at least for now. About a 1/2 mile of gorgeous sand beach with a beautiful view of Buck Island National park. A couple of pictures below that I took while we stood and admired the view. That is just one of the things I'm looking forward to discovering this island. Hidden little beaches like that, that you can have pretty much to yourself whenever you. It will be fun to be able to take family and friends who visit us to those kind of beaches, so they can have the entire beach to themselves if they want.
Buck Island National park is another area I am looking forward to exploring and getting to know. I have read a lot about it, but now want to romp and climb around on it and see it first hand. We have a lot of different places and attractions to check out as we begin to explore our new home. As I said earlier – it looks a lot like Southern Indiana in some spots – grass yards and pastures and many trees like the kind back in Indiana, it's just these apparently never loose their leaves. Another tidbit of information I need to confirm.
Still haven't made it into the water yet, snorkeling or SCUBA – but that's coming soon enough. Still focusing mostly on finding a permanent place to live. That and getting over this damn cough. Locals are telling us "everybody" on the island has that cough now. They say it is a week or so to get over it. We had one local tell us about local remedy. I had to try it~! It is called Honeyman – Ingredients are: Honey, Bee pollen, Turmeric, Cayenne Pepper, Garlic, Ginger and cloves.  It actually does a pretty good job. You take a spoonful whenever coughing kicks back in (usually after about 2-3 hours) Only thing is – you have to take it……. and forcing it into your mouth becomes a challenge sometimes. It's not quite thick enough to chew and just thick enough that swallowing it is a challenge, but swallowing it is definitely the least distasteful way to take it. A small bottle of it is $26.00 – but so far worth every penny…..
Super Bowl Sunday tomorrow. I have not watched a football game all season – not even a news clip.  I've been arguing with myself about watching the Super Bowl. I haven't missed any Super Bowl games other than a couple of times in the military when I didn't get to watch it because of an assignment. Decided that I would turn the game on and if any of those !@#$%^&*  take a knee during the Anthem – I'll turn the game off or I'll watch something else. To hell with them. (provided I get a signal strong enough to even get the game)
Good night ya'll — thankx for stopping in~~~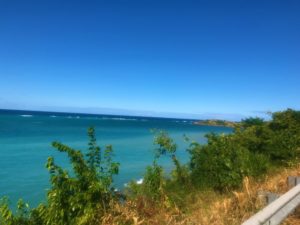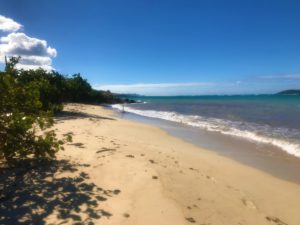 Buck Island
Buck Island
Total Page Visits: 774 - Today Page Visits: 1