Spent the first half of the morning talking with realtors and trying to find a place to live…. still no luck – Dammit Emmit~!  Got as much done on line as I could do, so we loaded up into the bus and headed for the far West end of the island…. Frederiksted, the other big city on the island. Town was actually much smaller than what I had envisioned. One big cruise ship in port. Not sure if it was a regular cruise ship or the one that was being used to house all the lineman and FEMA workers who are now snatching up every friggin' parcel on the island. We cruised around town for a little bit then set out to 'find' our way back to the condo. What we wound up finding, was ourselves on the top of one of the biggest mountains on the island, on a small path like road that led to pretty much nowhere. The road deteriorated enough, I didn't want to risk trashing the bus, so I backed up til I found a spot big enough to turn around and headed back down the mountain. Wound up in a little town I had no idea where it was, so reached out to Siri to get our ass back to where we needed to be. Another perk of being here… having a phone service that works~! Siri led us straight back to our condo…. yay Siri~!
Got back, had a couple of drinks and decided dinner was in order. Queen wanted to go back to the little hang out we found yesterday and in under 10 minutes was sitting at the bar at Blues Backyard BBQ. Friday night and the place was hopping. We had a couple of drinks and finally ordered some chow. Angie really like my Brisket sammich I had the other day, so she got one of them and I was in the mood for some hotdogs. I was hoping they would be the Big-Un's that I had an itch for, but they weren't. (Gonna have to add 214's to the list of things to get when we ever go back to Indiana to visit, along with Turoni's pizza) Live and learn. Angie says the brisket was just as good as yesterdays. Finished our dinner, had a couple more drinks, hung out and met a dozen friendly people who all welcomed  us to the island and offered lots of good tips to finding places.  Yessir — I really think we're gonna be happy here~!
Not sure what tomorrow brings….. I haven't been salty in a while — may have to do a little snorkeling here in that gorgeous bay right outside our window  😉
Good night ya'll…………….
The man who moves a mountain begins by carrying away small stones.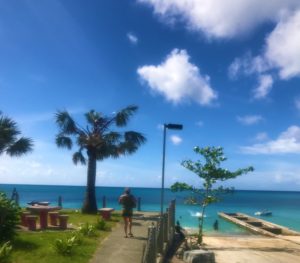 Hard to tell it here, but all the white spots are butterflies….. 100's of them~
Total Page Visits: 1043 - Today Page Visits: 1