Wow – been quite a couple of days. Started yesterday – we were in 3 different countries in the same day. Left Grand Cayman, landed back in the good ole U.S. of A for a bit – then took off and landed in Curacao. Got us a nice little 3 bedroom place, private pool (some of you may have seen a picture of it on FB – and yes there was drinking involved) — Doesn't have A/C throughout the house (just in the bed rooms) but there is always a nice trade wind blowing through keeping it tolerable. Free Wi-Fi and a nice big SUV also comes with the place and a grill so I can once again grill for my Queen – We pay utilities and gas for the car – but still a bargain -AND- we are on a tropical island 🙂
Got in late Friday and just drank and chilled on the patio to a cool night breeze and almost a full moon – got up today and just kinda hung out and checked out our new place. Did make a trip to the store for some groceries~ and chilled some more under a gorgeous full moon tonight.
Going to venture out tomorrow and check out our first beach. Haven't seen much of the island other than what we saw coming in on the plane – but we definitely have some small mountains (or really big hills) as opposed to Grand Cayman which was flat as a pan cake. You can't swing a dead cat without hitting some type of cactus plant around here. Can't wait to get out and scope some of them out. There is the occasional mule running loose and much like Grand Cayman – chickens and roosters running amuck everywhere.
So tomorrow, the real adventure for the island starts as we start checking it out~! I promise there will be ample pictures…………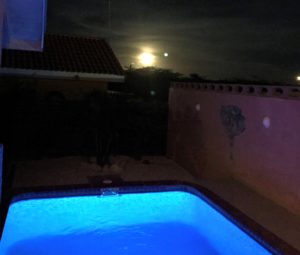 Total Page Visits: 562 - Today Page Visits: 1