Took a different route for my new morning walk along an amazing shore line of crystal clear water…… what a wonderful way to see any place let alone a tropical island. Walked up and around Star Fish point and saw a couple of dozen Star Fish just while walking the beach. Actually got to 'rescue' one of them that got stranded by the retreating tide. I believe I got to him (or her) before it was too late and placed it back into the water. I watched hundreds of small fish around the small docks and piers I walked past and a half dozen different Egrets and Herons trying to catch some of those small fishes. I saw a multitude of fun different crabs, but dang them little critters are quick – quick enough I could not get a decent picture of any of them.
Got back to the apartment for a quick dip in the pool and a wonderfully delicious breakfast cooked up by my Bride. Kinda lazed around the apartment for a while and got caught up on computer work (bills, etc.) that still loom in the background of this fabulous life we are currently living. (Yep – gotta deal with that yet – until the house sells)  Finished that up and walked up to the Kaibo Bar for a couple of mudslides (gotta make up those calories I burned up this morning)  😉  and then headed back trying to outrun what looked to be an impending rain storm. Rain went away before it got to us but it sure looked neat coming across the water. Ran up to Rum Point to look for a note pad in the local tourist [trap] store — was gonna stay for a drink but a very long line of people who crowded the bar from a just docked tour boat changed our mind.
Came back to the apartment, finished up the 'homework' I needed to do, made a small turkey & chicken sammich and took it easy for the rest of the day watching the big clouds roll past us…. the increasing breeze out there right now kinda hints rain is going to try and make it in again….. but it's only rain  😉
Think I'm going to snag the kayak tomorrow and get into a big bunch of Mangroves about a mile up the beach….. I've seen 'something' swimming in and around them and my curiosity is getting the better of me. I'll have my camera with me  😉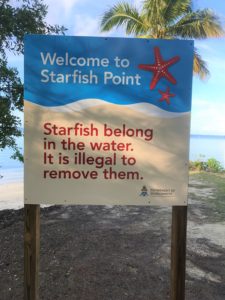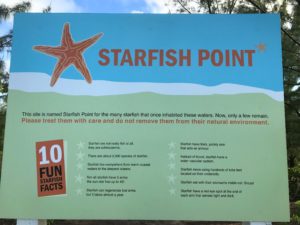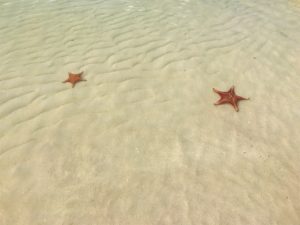 Star Fish I 'rescued' 🙂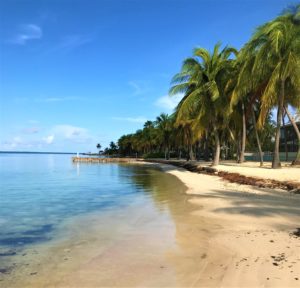 That is "our" dock in the picture……….
Total Page Visits: 880 - Today Page Visits: 1