Woke up to another gorgeous Caribbean morning only to have clouds gather up and commenced raining…and raining…. and raining – but it's only rain and normally doesn't last vey long. Met some fellow residents who said I was more than welcome to use their kayak. I happily accepted their offer and even though it was raining, jumped in and took off. I thoroughly enjoyed about an hour of kayaking – rain and all. Can't wait to do it when the sky and water are both clear.
Later, neighbor walking the dock in front of our unit pointed out a star fish, so we ran out to get a picture. From the dock was neat, but not good enough for me – so I bailed in and snapped a couple pictures. Neat to see them up close like that. A place called Star Fish Point is just up around the corner from us – am going to try and make it up there this week~~
Wound up at the local bar [a couple of times] getting in that much needed exercise walking there (wink, wink) for drinks and then returned for dinner later, trying out some of the local flavor. My Bride had what is called Putine Fries (basically French Fries covered with 3 different cheeses and rich brown gravy. Yummy~!! I had their fish & chips and they were, well…..not yummy. We split a small plate of popcorn ice cream – which is vanilla ice cream, drizzled with caramel syrup and mixed with caramel popcorn. Kind of a unique blend – but was actually better than you would think. We finished up and strolled hand-in-hand back down the beach to our place watching the sun set…. damn good way to end a day!
Shout out to my oldest Daughter Amanda  (Mouse)… Happy Birthday Sweetheart~!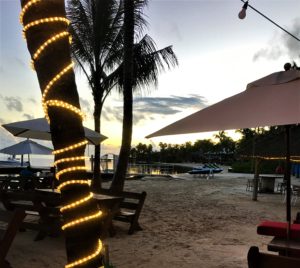 Total Page Visits: 754 - Today Page Visits: 1