Up again way early for a day off…. but the bladder gets what the bladder wants after you 'push it' for a while…… Still a decent night's sleep and my back actually wasn't killin' me. I think a big part of that though is muscle relaxers and CDB gummies…… probably contributing to the sleep thing too. My Bride stayed in bed a lot longer than me. I like it when she does that though, as she apparently needs it. We sat mostly quietly at the table until Angie got up and made us some pancakes for breakfast. Very tasty. Instead of staying at the table on my computer, I gathered up some stuff and was going to 'work a little bit' on my truck…… smack my mouth did I open a can of worms. As I started in on the small spot on my door, I thought well this won't be to bad… LOL…. I also figured I might as well go and prep some of the other spots, that way when I use my filler – I can go ahead and do them all at once. Good Grief~! Tire wells weren't too much worse than what I figured and as it turns out the little grinder I bought to cut tile with, turned out to be a real time saver on this project. Got the wheel wells done, then moved up to the roof…..O.M.G.  Now I had a pretty fair idea just how bad the roof was as I had duct taped all the bad spots….. I thought. I don't think I can adequately describe how bad a shape that roof is in…..yes- I took pictures… lots of pictures, pretty sure that ain't gonna do it….. Oh My Goodness what did I get myself into ????? I had one can of filler and the more I looked the more I realized that one can wasn't going to be enough. My Queen ran up and got me another two cans and I wound up using them both~! All the holes have been filled and oozing out everywhere. I didn't factor exactly how much expanding this stuff was gonna do…… but the holes are now filled. The cans say this stuff is formable, sandable and paintable but needs 24 hours to set. I hope it had set enough I can close my doors for the night. I'm putting up the pictures I have taken so far…… say a good word for old Double D 2.0….. she's gonna need all the help she can get. The plan….. is after I have formed the fill, is to put a light layer of Bondo over it. What the hell….. it can't hurt and got to be better than duct tape~!   😉
Good Night Y'all x x x x x x x x x x x x x x x Thankx for stopping in~!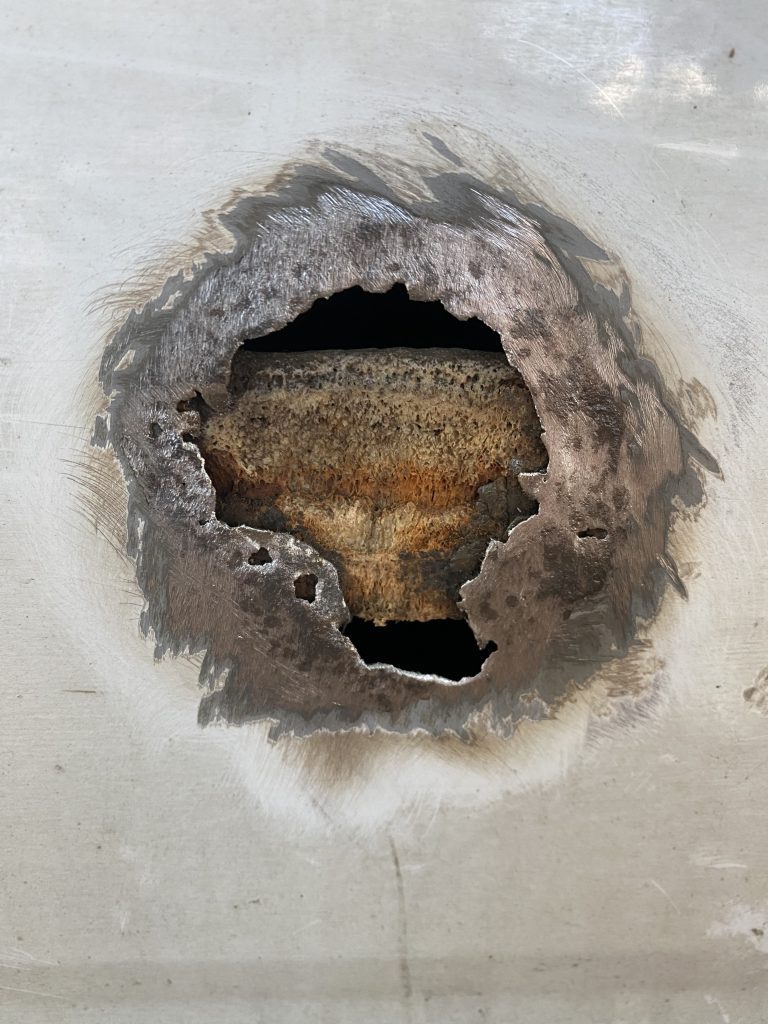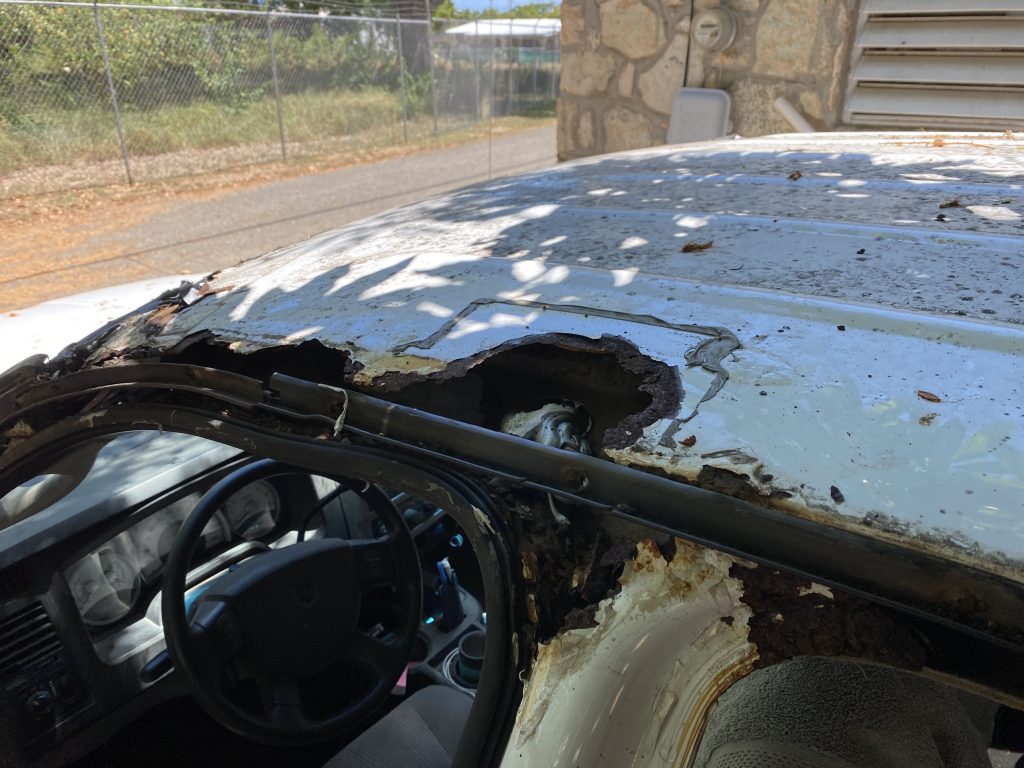 Yes…. that is cardboard that had been put in as 'filler' on an earlier patch job….
Total Page Visits: 144 - Today Page Visits: 2