The Neighbors had to leave the following morning and being 'crispy' in spots from the sun, they did not want to spend any more time on the beach before they left, so we hung out – had another nice breakfast compliments of my Bride and just relaxed and enjoyed each others company before we had to haul them off to the airport. Hugs and kisses all around and soon we were headed back to the middle of the island, already missing our friends. As become custom, we stopped at Blues to toast having visitors and as well as them leaving and wishing them a safe return. Also becoming almost customary, we wind up sitting there getting about half $hit faced and chatting it up with everyone else sitting there doing the same thing. We did not get to lay around and relax the next day which is something else we usually do – as we were asked to help our friends at Blues with an event they were partaking in. It was called Sunset BBQ on the Pier and a lot of the local establishments around the island came out to show off their talent in the BBQ arena. It wasn't a competition but more of a "Hey, come try our stuff~!" We arrived at 10:00 the next morning to help get trucks loaded and ready to haul down to the pier. We got to the pier and started setting up the Blues Booth. We were told we had to be set up by 3:00pm – even though the actual event didn't start until 6:00pm. We got all set up and then waited for the gates to open…… and boy-oh-boy did they open…….. At exactly 6:00pm the gates opened and by 6:02 we had people lined up at our table looking for BBQ Brisket and pulled pork….. and that line stayed there until around 08:45 when we finally ran out of food. Jim said this morning we served 476 sliders of BBQ. They also had a small bar set up on the side serving Island Girl and Key Lime Pie drink samples. I don't know about the bartenders, but everyone else got their lips worked off, including the 5 people prepping and making the sliders. I came around to the serving side of the table to help Angie about 6:20 and didn't leave until we were out of food.  WOW~!! We were all shot by the time the event was over, but still had to load up the trucks and get the stuff back to Blues. My Queen managed to get herself on the front pages of the newspaper during the whole process of the event. I managed to keep my big belly out of most pictures  😉  Nice turn out for the whole event, which was a fundraiser for various charities on the island. No doubt in my bald head, they did good for the event. By the time we got back to the condo, it was just past 10:00pm – a long day indeed for us old folks (which is why I didn't get a blog out that night)……. At my limit again, so stopping here…….
Good Night Ya'll – – – – – – – Thankx for stopping in~!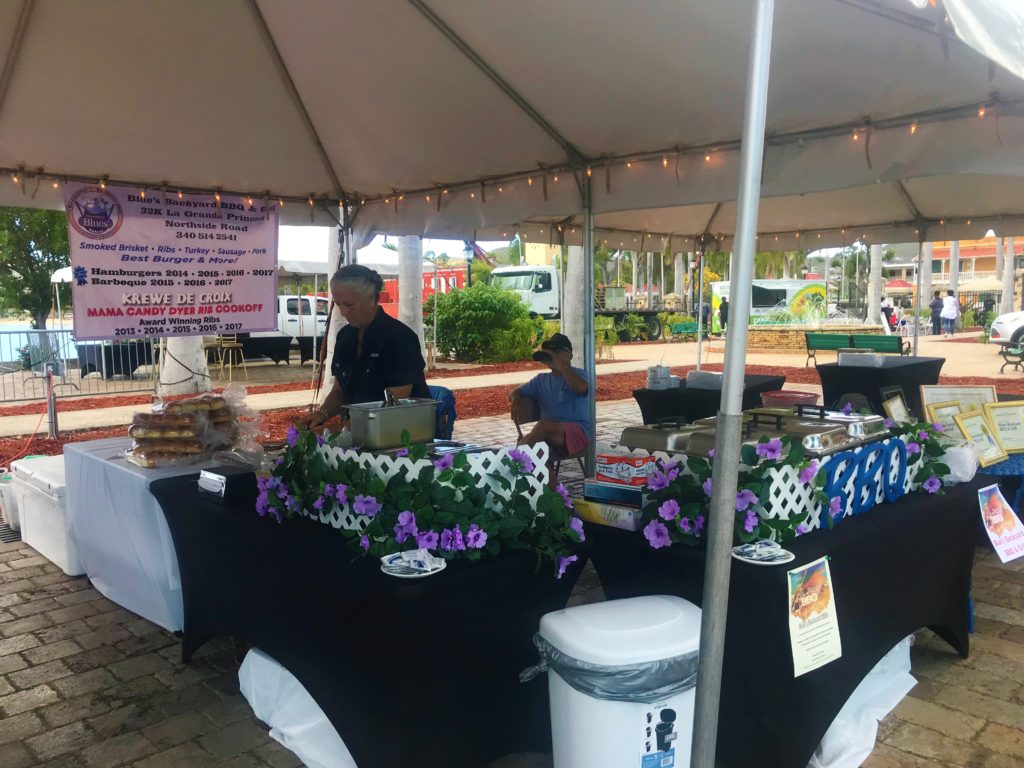 Some of us got a little more relaxed before the big event than others~!  😉 
One of our views for the event
Grilled Pineapple – absolutely delicious~!!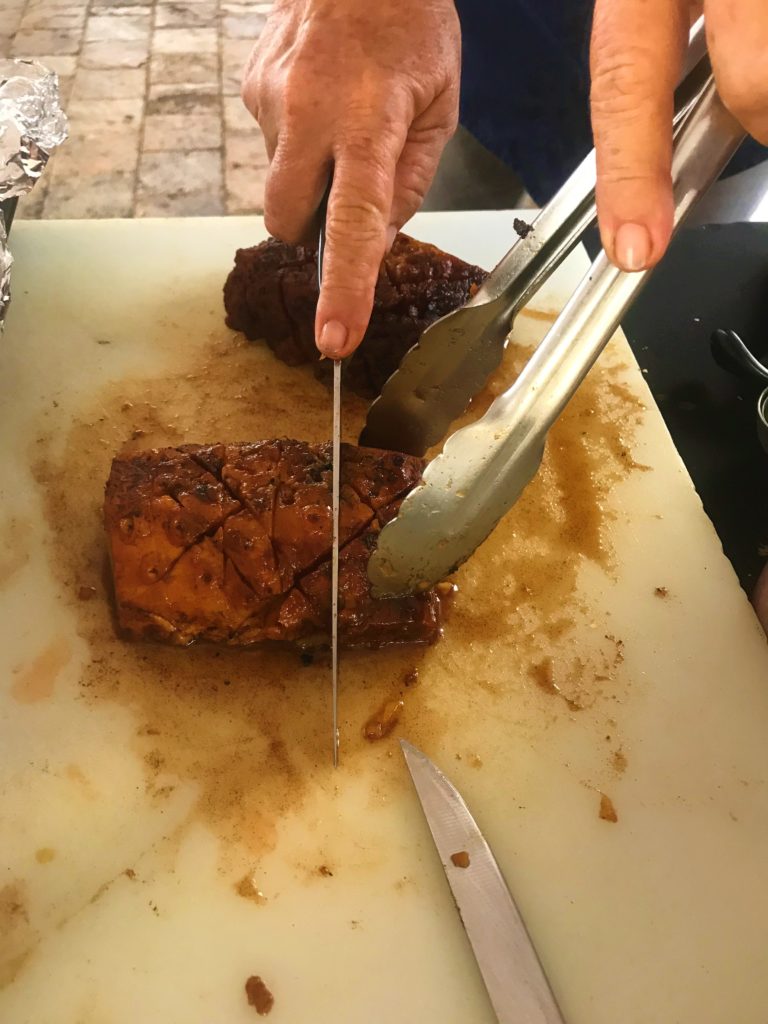 My Bride on the front page~!
Total Page Visits: 625 - Today Page Visits: 1