Had to have DD up to the garage this morning at 09:00….. rolled in and dropped it off to have new brakes put on it. I figured it wouldn't take more than an hour or so – well, okay 3 hours (island time)….. so I meandered down to Blues to wile away the time. I wound up being a substitute driver for a guy needing to move a couple of vehicles around the island. It was a nice distraction and killed an hour or so. Got back to blues and drew up some plans for a new fence Jim is wanting put up. Finishing that, I sat down at the bar and got a beer and waited for a call from the garage saying my truck was done. And I waited…. and waited…. and waited, the whole time pouring down really cold beer that was going down a whole lot easier than it probably should have. By 12:30 I had a pretty good buzz going probably speeded up by the fact I didn't have much of a breakfast – so I ordered one of those primo hotdogs and wolfed it down. That helped…. and I continued to wait. Finally at 15:00, I had about all the beer I could stand (and still stand/walk) and walked back up to the garage. Mechanic 'just brought the ticket in'……. yeah, yeah – how much do I owe you ?  $ 195.00 (plus the $70.00 I had to pay up front for them to order the parts in) Seems a little steep for a set of front disc brakes – but whadda ya gonna do ? At least now DD should be good to go for a while……. I hope.
Not much else to chat about and it's past my bedtime….. so I'm gonna leave it here and put up the rest of my pictures from the dive the other day.
Good night ya'll —-Thankx for stopping in~!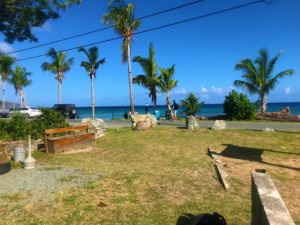 Total Page Visits: 541 - Today Page Visits: 1