Picking up from yesterday's adventures here on our beautiful island.  After I dropped Eddy off, I came back to the house to collect my Queen and head out to try and knock out the list I had made the day before.  First thing on the list was to drive out to the West end of the island to a favorite dive shop to check out a new gear bag that had been ordered for me to put my new gear in. The folks I needed to talk to weren't in and the young lady there said they had run down to Rhythm's for lunch. Since I had skipped my normal hearty breakfast and my Queen only had a bowl of cereal, we decided we would go to Rhythm's as well for a bite to eat and maybe a nice cold adult beverage. We scooted on down the road and soon sat down at a table there inside the bar. We ordered some snacking types items – I got Blackened Mahi bites and some Mozzarella sticks and my bride ordered a bowl of the Lobster Bisque. All wonderfully delicious, especially washed down with a nice cold drink. I saw and spoke with the dive shop owners and told them I would meet them back at the store. We had a couple of 'dessert' drinks. They were called Blow Jobs — very tasty concoction with a small dollop of whipped cream on top. I could make several wonderfully nasty comments as how the drink get's it's name, or other lewd comments and probably do one whole blog on them alone – but in the interest of brevity (and the fact some of my Daughters and at least one Grand Daughter read this) — I'll leave it with saying they were good enough we wound having a couple of them  😉  Finished up and headed back to the dive shop — I looked over the gear bag and didn't much care for it and opted not to get it. For the money they were asking for it – I am going to have to be tickled to death it. We hung out and I chatted with a dive gear rep that was there for a bit – just asking some general questions. We finally loaded back up into DD's and headed back toward the middle of the island.
By then it was a little after 2:00 and between being tired, hot and having a small buzz going – I opted to skip a couple of the things on the list and swung into the grocery store to pick up needed chow. 30 minutes in there and I was ready to head back to the condo — Between getting up entirely too early that morning, moving and everything else – I was done for the day. We got back, unloaded the groceries, made drinks and settled into the couch to suck up some conditioned air….. Ahhhh~~
Got to sleep in this a.m. and got up with the intentions of going up to Blues fairly early before it gets stinking hot, to work on the fence line I want to clear out, but my Queen was dealing with some kind of stomach distress, so I stayed and tended to her. While she's not feeling a 100%, she says she is feeling better – yay~ so I'll see what tomorrow brings and maybe get to the fence then.
Good night ya'll — Thankx for stopping in~!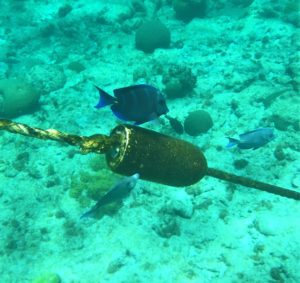 Total Page Visits: 558 - Today Page Visits: 2