I got to get up on my own accord this morning (without the help from upstairs neighbor) unless you count having to pee so bad my eyeballs were floating…… I hate that. Makes for a mad dash to the bathroom……. My Queen had just got up also, so we got a cof of cuppee and enjoyed yet another gorgeous sunrise.  Angie made breakfast for us this morning and I did the dishes when we were finished. I told Angie that I wanted to get up to the garage that worked on my truck and get what was needed straightened out. I spent probably 30-45 minutes chatting with them – and I think [or hope] we are on the same page now. DD goes in Thursday morning for hopefully the last time for a while.
Finishing up there, I decided it would be a good time to swing out past Home Depot and pick up some things I'm gonna need for a project I'm working on at Blues Backyard BBQ. Hurricane Maria reeked havoc with a big wooden fence surrounding part of the yard and I'm going to get it patched up and standing tall again. Got what I needed and pulled in at Blues to drop it off. Well we couldn't just drop stuff off and go – that wouldn't be neighborly – so we got us a drink and sat and chatted with the crowd there. The bartender asked if I could do him a big favor, by driving over to the other side of the island and picking up a battery for his Jeep. I wasn't doing anything other than sitting there drinking beer, so I said sure. Got over there, got the battery and came back and commenced to drink more beer. He then sheepishly asked if I would get the gas can and go get him some gas as he managed to run out. I wasn't doing anything other than sitting there drinking beer, so I said sure. I ran down the street and picked up some gas for him and brought it back. I noticed he had been gone for a while, so I walked around to his Jeep, only to find him sitting there cranking away at the Jeep. I tried the couple of menial little things I thought might help [they didn't]…. I asked if the Jeep was standard or stick — he said it was stick and could I help him maybe push start it. First we had to push it back a way from the pole it was up against. Finally got that done and got him going fast enough to 'pop the clutch…. but being on gravel, the tires didn't get a very good bite and it didn't work. Then we had to push it back off the road out of the way. Jumpin' Jehoshaphat I forgot just how hard it is to physically push a car….. even a small 2 door Jeep.  I also got a nasty dose of reality in just how far out of shape I am…..  🙁
Came home, took a shower, made a bite to eat — Angie had Mac-n-cheese — I made me some Brats~! Yum~! While standing out on the patio havin' a cigarette and watching the sun set – I noticed what turned out to be, the biggest crab I have seen on this island so far. I took a couple of pictures of it and with some prodding from my Bride – wrangled his a$$ up onto the patio so she could get a close up. It's hard to tell from the picture – but his big claw was about the size of my hand! Pictures taken, I took him back out to where I got him. Ya gotta love island life~! With the sun completely down now…. we are enjoying a full moon tonight down here in this part of the world. I tried to get some pictures of it through the palms and the way it lights up the beach and breaking waves – but my phone just does not have that capability….
Good night Ya'll — Thankx for stopping in~!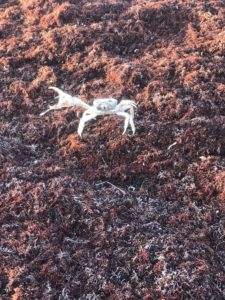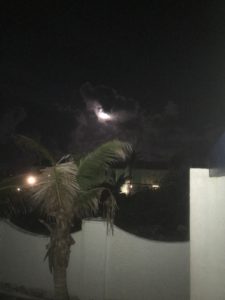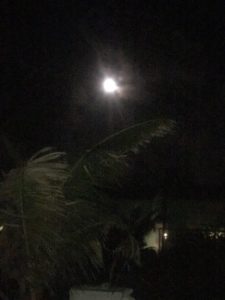 Total Page Visits: 497 - Today Page Visits: 1