Decision was made that today was going to be spent at a beach… and the first beach we were going to check out was at the Buccaneer Hotel and Resort. Nice not so small resort located about 10 minutes outside of town. Pulled into a mostly empty parking lot around 10:15 and walked around to one of the prettiest beaches we have been to so far. No waves to speak of, fairly gentle slope into the water…. very nice. We got us a couple of beach chairs and set up camp and was soon headed to the water. The water was a touch brisk this morning, but once you were in it felt Oh so nice~! Water had quite a bit of silt in it, but still awfully pretty. We swam, snorkeled and played to our hearts content. After an hour or so – we came out for a shade break, have some snacks and make sure no one was getting cooked. As it happens, there is a nice little bar/restaurant right there on the beach and by the time we got to our lounge chairs, a young lady was there asking if we would like drinks. Well yes indeed, thank you very much. Drinks and snacks taken care of, we all headed back to the water. After another hour or so, another break, more drinks….. yessir – that was working out pretty well. Stephanie managed to wrangle a kayak (supposed to be for hotel guests only) and me and my Deuce jumped in and was soon headed for the small reef just outside of the swimming area. After a sight seeing tour of the area, I came in and swapped out passengers and took Stephanie and my Mess (Colton) for the same sight seeing tour. Wrapped that up and brought them back into the beach and Will decided he needed another ride, so he loaded up and away we went (after I dumped both of us when my foot got hung up trying to speed load into the kayak) but we got everything righted, my foot in and away we went. This time we checked out the rocks along the far shore looking for fishes or whatever we could scare up. Sea life must have seen us coming and went and hid cause we didn't see anything except a bunch of that gorgeous water. Sea hunt over with, we went and turned the kayak back in and returned for a little bit more swimming.
It got to be going on 4:00 by then and we figured everybody was about swam and sunned out, so we loaded up and headed back for the condo. I got the gear all cleaned and put up while everybody got their showers. I took a quick shower and then we headed up to Blues for a bite to eat and some adult beverages. Bellies full and everybody worn out, we are now back at the condo, winding down for the evening. The "Mom's" of the group want to go to Hotel on the Cay tomorrow, so we're gonna get some rest and try to be ready for another big day tomorrow.
Good night ya'll — I hope you have a Happy Mother's Day tomorrow to all the Mom's reading — Thankx for stopping in~!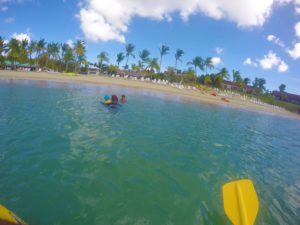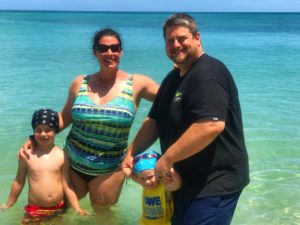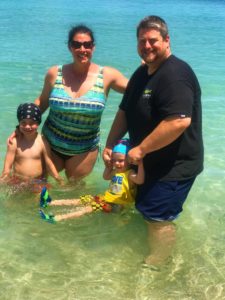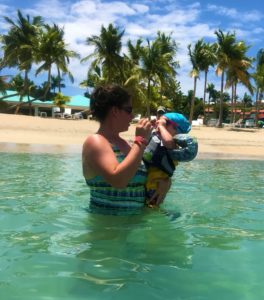 Total Page Visits: 888 - Today Page Visits: 1