Had a nice big relaxing breakfast to start our day off with. Got caught up on dishes and laundry and decided to take a drive — -my baby Sister is coming in – in a couple of days and I want to make sure I have a lot of places to take her and hubby to show off our beautiful island…… We actually managed to find a road we haven't been on yet (there are still a handful of them out there)… and found a beautiful overview of the NE end of the island. Winds were up really high today and storms popping up all over the place – so our normally gorgeous turquoise waters were churned up and not all the shades of blue we're used to seeing – but equally beautiful in their own right.
We drove most of the NE portion of the island and then headed out west to what is generally referred to as Veterans drive…… I had seen it on the map and have been wanting to check it out, so when we came down off the mountain – we headed out that way. Beautiful stretch of beach….. lots of sand – and watching the storms roll around out on the sea was fascinating and beautiful all at the same time. Took lot's of pictures – just hope I can get some to load….. out stellar internet here is in rare form tonight – and I barely got logged in here, so getting some pictures up should be a treat. Followed Veterans drive until it disappeared into the water….. literally……. road-water…..boom – just like that. Squirreled around and headed back into town. Stopped at a little local place right on the beach for some liquid refreshments and to sit there and watch the sea churn while storms rolled around in the distance. It was wonderful right up until it started raining on us – so we finished out drinks and headed on down the road. I can't wait to show Lil Sis and my Brother-in-law that place….. they'll love it~!!  Didn't get a whole farther down the road and my bride said she wanted to check out a place we have passed several times….. Louie & Nacho's. Turns out – that is the name of the owners dogs…… gotta love that~! We sat and had a couple of drinks…. I ordered a plate of their specialty nachos while my Queen ordered some Ceviche. Well her ceviche was too spicy for her – so I had to eat it and she polished off my damn tasty nacho platter (with beef)…… We finished that off, had a couple of more drinks (or 6) met and chatted with some really nice folks and watched a fabulous sunset. Finally loaded ourselves back into the bus and motored our way back to our little mountain top retreat. As we were leaving I noticed their sign at the exit and HAD to take picture of it. For my regular readers – I'm sure you'll recognize the picture I'm talking about (if I get it to load) — Came home, killed a  couple of small centipedes and settled in for the night while an unusually cool wind whistled and blew around the mountain. Should make for a great nights sleep~!
Good night ya'll –thankx for stopping in~!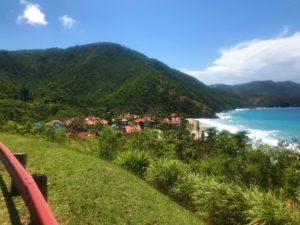 (too many pictures to load all tonight – more later)
B
Total Page Visits: 256 - Today Page Visits: 2