Bottle-assed around the house for the first half of the day working on lining up things for our impending move. It got to be mid-afternoon and I felt bad because my Queen had been 'stuck' in the house most of the week. I asked her if she wanted to do something…. she mentioned going to the beach but after I reminded her about the wind (blowing like hell today and it stirs up the water real bad, plus kinda feels like you're being sand blasted laying out there) so she opted out of it. I knew she had been wanting a mani-pedi – so I suggested that. She liked the idea and asked if I would have one with her……. as much as I didn't really want to – I said sure~!   We went to a local salon and set through about an hour and 45 minutes of having our feet rubbed and hands and all that other stuff done. No – I did not get polish on any of my nails – the woman doing me didn't even offer. Which kinda depresses me because I was going to get a shark, or something else cool painted on my big toe nail. Had that done once – and actually kind of liked it…. oh well, maybe next time. Guys, if you've never hand it done – try it, really not that bad and a great way to get a fairly decent foot rub~! They rub you calves with hot rocks and oils and then do your feet. Nice~! I wasn't real shot in the ass about the manicure part – but here again, you get your fore arms rubbed and your hands massaged with warm oil…. It's not terrible, and your wife might even be happy you're doing something with her…….might.
Left the salon and there was a restaurant we have not tried yet, next door and being hungry by that point we moseyed on in……. No big ships in town for the next couple of days, so you can get in about anywhere on the island now without a reservation. Sat on an open air deck, looking out over that gorgeous water, watching the sunset and talking about how bad it must suck to be back in Indiana dealing with a freakin' blizzard~! Then we laughed…… 😉  The sunset was just absolutely mind bending though…… Colors like you cannot believe…. I couldn't talk long enough (if I wanted to) to try and describe that kind of beauty~! I ordered a Portobello mushroom stuffed with a bunch of different cheeses for an appetizer…. Entrée, I opted for a Seafood Pescator  (spaghetti with clams, shrimp, squid and scallops in it with an Alfredo sauce) Wonderful~! My bride had the catch of the day (Mahi Mahi) which by the way was fantastic. Washed it all down with beer and wine and topped it off by splitting a piece of Key Lime pie.  We really are Living the Dream….. and loving every minute of it. You should really try it………… really…..  😉
I have no special talents. I am only passionately curious.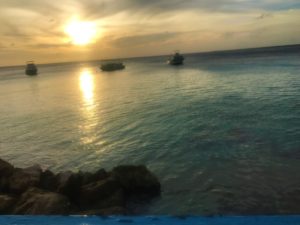 Total Page Visits: 1468 - Today Page Visits: 1