Had an off the cuff two tank dive today…….. showed up at the dive shop a little before 9:00, loaded gear and headed out to Bachelor Beach. Although the weather was perfect, there was a very strong unexplainable surge, creating very large waves crashing into the shore. We (dive master and I) discussed it and decided to go ahead and make the dive. Awesome, awesome water~! First time underwater since we've been here and it did not disappoint~! I know I've said it before, but these pictures just do not do justice to how absolutely blue and beautiful that water is. Wow~ Dive master was very patient with me as I got weights situated, masked cleared, ears cleared and generally settled into the dive and looked around before starting. Saw some new coral that I've never seen before. A beautiful green. Dive master told me the name of it, but I have long since forgot it. Sadly, it's true beauty did not come out in the pictures. The new filter that I ordered for my camera, does not fit…. Dammit Emmit~! Got to see trunk fish, flounders, a couple of huge tarpons. Just a very good dive that seemed like it only lasted a couple of minutes, even though we were down there for almost 50 minutes.
Finished up that dive, loaded everything up in the truck and headed for another beach, aptly named Some Place Special beach. Waited our appropriate time, put on our gear and headed back into the water. More beautiful water, more beautiful fish and more beautiful coral. I'm either going to have to find a good filter for my camera [that fits], or get a better camera.
Came home, washed the salt off, chatted with a Daughter and Grand kids, had a drink and watched the resident bird population doing their thing. Had a new bird show up. Looks like a cross between a pigeon and a dove.  Very unique marking around the eyes. I was starving and my Queen said she wanted a steak, so we ran down the road to Joes….. meal wasn't as good as last time, but still passable and neither of us had to cook. Got treated to a nice rainbow as we got there as well. A damn fine day if I do say so.
Nou buste mijn knoppen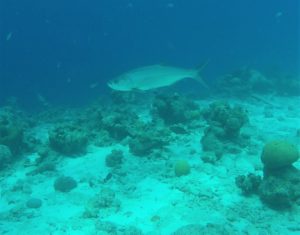 Total Page Visits: 569 - Today Page Visits: 1