What a great way to welcome in December~! A 2 tank dive today on one of the prettiest reef's I've been to. Lot's of fish and new things to see — even had a professional video done, which I will post to FB (because this POS web site probably ain't gonna let me load it on here)… but done with High Res camera and proper filters – it let's you see what it really looks like down there…… absolutely beautiful. Sooooo many pictures to show you – just wish I had the gear and this web site had the capability to show you what my eyes see versus what the camera sees. (all in good time my pretties) First dive I got see the biggest green moray eel to date~! Sadly didn't get a picture of him because he was jammed way underneath a big chunk of coral……  did get a couple of shots of a smaller spotted one though~! Got to see another big eagle ray – those things just blow my mind how graceful and elegant they are under water. Very fun and wonderful dive first thing in the morning~!
Sat at the local restaurant and had a bite to eat with my Queen while I waited for my next dive (gotta let some of the nitrogen work out of my body before I go in again)…. went and stretched out on some beach chairs and spent about an hour gazing at some of the most beautiful blue water on the planet….. I swear I could have laid there all day staring at that water. Looking at the different colors of blue and listening to the waves lap up on the shore…… heaven on earth. Ain't a blood pressure medicine on earth that works as well as laying there in that chair~~~
Second dive….. had a couple of extra people join the group – and can honestly say I didn't care for that part of the dive. Too many people in the water, especially when they are swimming on top of you and bumping into you all the time. I kinda separated myself from the group and was kinda minding my own, when we rounded the wall of a big reef we were on and swam into the largest bait ball I have ever seen~! There had to be a half a million fish (Sardines). All being corralled by about a dozen large Horse Eye Jackfish. Hard to tell in the pictures, but am guesstimating these dudes were all 20-25 lbs. Before I could think real good, I was suddenly in the middle of the bait ball. It was amazing. You could not look in enough places fast enough~! It was like something right out of National Geographic. Absolutely mind bending. It was intense enough, I forgot to breathe…. which created enough air in my lungs to hike my ass right up out of the action. I quickly recovered and got some pretty decent pictures. Just wish the pictures showed the intensity of that minute or two that whole event was going on. WOW~! Just f**king WOW~! The rest of the dive paled in comparison to that, but still a great dive~! (forgot all about people climbing all over me after that).
Came back and regaled my Bride of the details of the dive…. spent a little bit of time at the dive shop putting up gear and talking with the other divers about we had witnessed. Truly spectacular~! Finally wound down a little bit, loaded our gear up in the bus and headed back for the house. Decided to stop and check the local grocery store for more Crown…. and YAY~! YAY~! they had it. So we came home with some great memories (my Bride snorkeled each time I went diving) and a couple bottles of hooch to celebrate with. A 'nod' to the dive center, PortoMari Sports Curacao for a great job on the guided dives. Highly recommend them as well, if you ever make it to Curacao~!
Entirely too many pictures to load for one post, so will share more of them on the slower days. Enough for today — Happy December~!
Dit is hoe te brengen in December~!!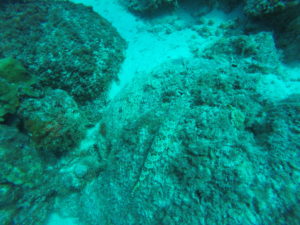 See him ?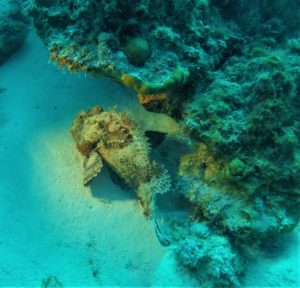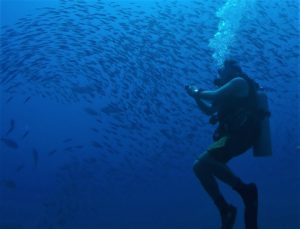 Total Page Visits: 978 - Today Page Visits: 1