After another illustrious continental breakfast (don't take long for them dudes to get old) – we headed out to the local Rum distillery for a tour of the place…. these boys got it figured out, start the tour off getting you mostly hammered (and they will tell you that right up front) by sampling somewhere around a dozen different rums, vodkas, triple sec and schnapps'… yeah, I wouldn't have thought you'd find all of that at a Rum distillery either – but apparently, this one you can….. after coping a fairly decent buzz – we were led through the actual process plant – pretty neat little operation. You are then guided back out for more shots (if you wanted them) and of course the opportunity to buy any of their offerings. We had a group of young women with us that was having an exceptionally good time – that always make a tour more fun…  ; )
After we left the distillery, we headed for a snorkel spot that I read about that sounded like a lot of fun. After getting lost, turned around, confused and disorientated – we finally found the place. We pulled into a fun little bar – and my Bride opted to sit and drink while I bailed off of the pier and headed out for the site. (my Bride is not comfortable in deep water, so she opted to sit and drink and watch me). The spot I was swimming out to is called the Wreck of the Cali: The Cali was a 220′ schooner/freighter built in 1900 and in the 20′s a diesel engine was installed before it was sold to Colombians. Not originally designed for the shaking a giant diesel engine produces, the hull weakened and cracked over time. In the 40′s while carrying a load of 30,000 bags of rice, the hull finally sprung a leak leading to the rice expanding and fracturing the hull offshore from Grand Cayman. The boat was blown in half and scuttled to form the dive site that now is scattered over several hundred meters of undersea terrain.
I had almost talked myself out of doing this swim, because massive black clouds were forming and there was very little sunlight, so I was afraid visibility would suffer, but I knew my chances to getting back to this part of the island were slim, so my Bride convinced me to go for it. Boy-0-boy am I ever glad I went for that swim. Even in low light conditions, the visibility was still amazing – and aside from the Tarpons I had to swim through to get to it and seeing another big sting ray and lots of other sea life – seeing that wreckage down there was amazing~!! I could have floated over that wreck for the rest of the afternoon. I would have loved to been able to scuba dive it and get down into some of the bigger pieces of the wreckage.
The good part for you all – is I tried out my Go-Pro camera on this swim – and managed to come up with some pretty decent pictures and a couple of fun videos (if I can get this friggin' web site to load them)
I hope you enjoy~!!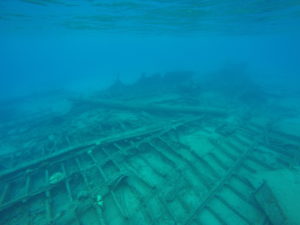 Total Page Visits: 636 - Today Page Visits: 1